Starting Your Financial Literacy Program
Getting started with your Financial Literacy 101 program is easy and no IT support is required to set up your program. Most colleges and universities use an access code-based system, distributing a single code to students that's tied to a specific course assignment. Course participation records can be viewed online or exported to a spreadsheet for use with your student management system. No further set up is required, ever.
Since student data can be filtered by registration or course completion date, finding the records you need is never a problem. And for organizations with multi-year financial education programs, it's simple to assign new courses and to track your students' progress over time.
With annual university pricing starting at $2,500 and discounts of up to 70% for most TRIO programs, Financial Literacy 101 is a fantastic value for any college or university. But content, capabilities, and value only go so far. That's why we offer free implementation coaching to every customer. Leveraging our product and financial literacy implementation experience is the best way to meet your financial education goals.
Bring Financial Literacy 101 to Your College or University
Contact us to request a call back or to schedule a guided demo.
About Financial Literacy 101
Financial Literacy 101 is a product of Decision Partners, a leader in online financial education since 2004.
Hundreds of schools have used our financial literacy programs, including high schools, four-year and community colleges, and even leading medical schools.
Financial Literacy 101 moves beyond the one-size-fits-all approach of most college-focused financial literacy education programs, offering a personalized learning experience with best-in-class engagement metrics. Financial Literacy 101 students spend, on average, three times longer on the site than the next leading online financial education program. And with millions of assignments completed on our platform, students are nearly unanimous in their support of our approach - over 93 percent of students who completed our Financial Basics course agree it was a good experience and nearly five out of six students would recommend the experience to a friend.
Financial Literacy 101 places students first. When your college or university purchases Financial Literacy 101, that revenue is the only source of revenue for your implementation - there are no commercial offers, upsells or data sharing of any kind with third parties, period.
To learn more about bringing Financial Literacy 101 to your organization, please get in touch.
Case Study
The University of South Florida Financial Literacy Program
A four-year public institution serving more than 40,000 students, the University of South Florida has required that all incoming students complete our "Financial Literacy Basics" course since 2009.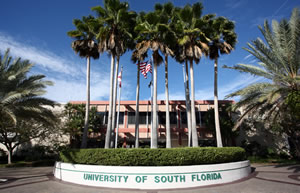 To date, over 40,000 students have completed a course on Financial Literacy 101 at USF.
Implementation
After discovering both an increase in average undergraduate debt and an increase in student loan default rates, the university decided to include financial literacy education as "an essential component of each student's educational experience."
All first-year students have been required to participate in "Life Skills for Student Success," a program designed to teach the skills students need to succeed in college.
Choosing Financial Literacy 101
When describing the reasons why they chose Financial Literacy 101, Billie Jo Hamilton, Director, University Scholarships & Financial Aid Services, mentioned:
The pre-course survey allows university staff to gauge students' learning as well as their financial knowledge, attitudes and behaviors. For example, Financial Literacy 101 revealed that over half of all first-year students were worried about the debt they would incur and how it would affect their choices after college.
The Real World Calculator at the end of the Basics course challenges students' future earning assumptions. It forces students to see that they may have to make some financial choices in order to live within their means.
The financial literacy program's approach is not "preachy or condescending," which lends itself well to University of South Florida's population.
Ms. Hamilton also commented "We have been extremely happy with this program not only because it handles a high volume of students at a very affordable cost, but because it provides excellent information in a way that our freshmen can relate to. Students who complete the program indicate that they would recommend it to a friend, which is the best endorsement!"